Dr. Rakesh Mogul: A Persevering Researcher and Professor
By Elisabeth Lee
---
When you enter any field as a professional, the doubt and discouragement from others is inevitable. Whether it comes from friends, critics, or colleagues, the dissuasion can be difficult to endure. Dr. Rakesh Mogul, however, has proven to be a successful professor and researcher at California State Polytechnic University at Pomona despite the naysayers he encountered throughout his career. Today, Mogul has been interviewed on German Public Radio, has had articles written about him in Forbes and The Atlantic, has worked at NASA's Ames Research Center, and has been funded by NASA on numerous research projects. Just as he was able to do, he advises young students to, "[not] let anyone tell you, you can't do something".
Mogul received his B.S. degree in chemistry at the University of Redlands. It was during his studies there when he was tasked with presenting a special topic to his advanced organic chemistry class. In that exact moment, a fire sparked within Mogul: "I was a different person in front of a group. And at that moment I knew this is what I wanted to do."
After completing his PhD in organic chemistry at the University of California, Davis, Dr. Mogul did his postdoc at the University of California, Santa Cruz. And following through with his dreams, he is now a professor of biochemistry at Cal Poly Pomona where he has been teaching for 16 years. Through his teaching, Mogul hopes he can provide the same inspiration to his students just as he received as an undergraduate student himself. His zeal is evident in not only his love of teaching, but also in conducting research with undergraduate and master's students.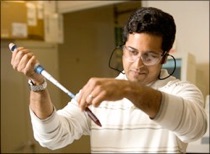 Mogul's undergraduate students almost exclusively spearhead NASA-funded research on spacecraft-associated microorganisms. The undergraduates, along with some masters students and scientists at JPL, test to see how effective cleaning procedures used on benchtops, robotic spacecraft, and even the International Space Station are in removing biochemical mechanisms. They conduct research to see if these cleaning procedures actually act as carbon and energy sources for the microbiome (the bacteria and fungi on the surfaces). For Mogul, it is a challenging project working with undergraduates but he wants them to work in the lab, make mistakes, and move in positive directions. He believes "research is a critical part of 21st century education." Mogul's lab is relevant for understanding the microbiome and effectiveness of disinfectant products in places like hospitals or military grounds.
While Mogul is largely successful now, his achievements haven't come easy. Throughout his undergraduate and graduate years, he experienced discrimination and had his experiments sabotaged. Mogul opens up by sharing, "I had a lot of people tell me [the discrimination] was insurmountable and I did believe them [at first] but I proved them wrong… I didn't even give the naysayers an ounce of credit." What allowed Mogul to overcome the hurdles was finally believing in himself and allowing that to be enough to keep going. Even if the recovery requires more years of work, it is worth it — you come out stronger in the end.
With that mindset, Mogul has had many successes and an incredibly persevering mentality. It permeates into other areas of his life as well. Even amidst the pandemic, Mogul stays busy working on papers to be submitted. When Mogul isn't working, he enjoys spending time with his two children and going on trail hikes and runs. He proves to be a multi-faceted professor who is so passionate in helping his students and wants to provide the best education he can give. Mogul's journey is a constant reminder to students and professors alike to continuously push onward because the result could produce your most significant achievement.
---
Elisabeth Lee is an undergraduate student studying human biology at Cornell University. On campus, she works on the E-board of Cornell Undergraduate Research Board and is a dancer in the Impact Dance Troupe. Fueled by hands-on experiences, she aspires to work in the healthcare field and serve those in her community, while maintaining her life-long passion for ballet.