The Young Scientist Program (YSP)

Program Overview
The BMSIS Young Scientist Program (YSP) is the premier online internship on Earth for those interested in Earth and space science, science communication, and moral philosophy.
The YSP provides opportunities for students and eligible early career scientists to participate in basic research, learn about effective science communication, and develop critical thinking skills in ethics, policy, and more.
Successful applicants join BMSIS as Research Associates (RAs) for the duration of the program.
While the program is intended as an online, remotely conducted internship that lasts from 1 June through 31 August, there are occasional opportunities for in-person work (depending on the projects available).
Research Associates with the BMSIS YSP work with one or more of our BMSIS research scientists on a variety of projects in Earth and space science, engineering, and science communication. While some of the projects do have funding, many of the projects are unpaid (see the list here). Unpaid YSP projects will last nominally a maximum of three months (June 1st to August 31st), while funded positions may last longer.  
The BMSIS YSP training philosophy has been adopted by NASA Ames Research Center Space Biosciences Division where BMSIS manages the "NASA/BMSIS Young Scientist Program in Space Biosciences." This collaboration develops the next generation of space biology professionals, and focuses on (but is not exclusive to) post-bachelors and pre-doctoral students. BMSIS is not actively recruiting students for this program. Participants in this program are physically located in Mountain View, California, USA, and are already working in a NASA Ames lab. NASA/BMSIS YSP doctoral students may remain Research Associates up to their doctoral defense date.
---
Eligibility
The BMSIS Young Scientist Program focuses on undergraduate students and those who have completed undergraduate studies but have not yet enrolled in graduate school.
This program is offered primarily as a part-time remote, online program (though some projects do offer on-site training, pending on the location of the applicant). Our program is therefore open to non-US applicants.
For questions concerning eligibility, program schedules, successfully applying to our program, and more, please read the Frequently Asked Questions (FAQ) document. Due to high volumes of inquiries, we are no longer able to answer individual queries about the YSP. Once you have read the entire FAQ document, if you still have a question, then there is a section at the end of the FAQ for submitting questions specifically related to the YSP.
You can find a complete list of eligibility requirements along with the available projects on the YSP Projects and Application page.
---
BMSIS YSP Recommended Reading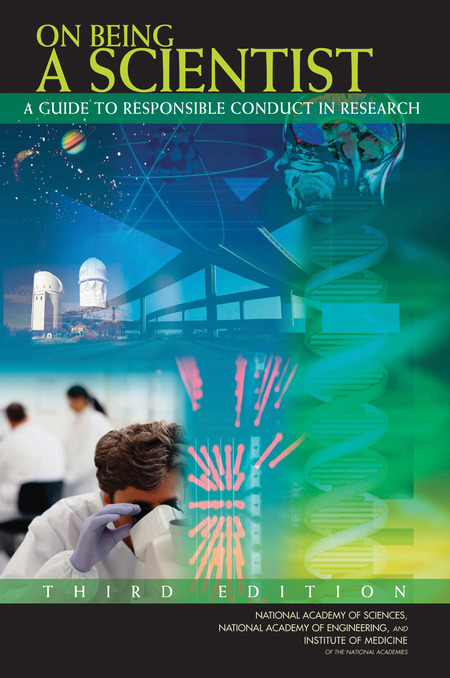 National Academies – On being a Scientist: a guide to responsible conduct in research
On Being a Scientist was designed to supplement the informal lessons in ethics provided by research supervisors and mentors. The book describes the ethical foundations of scientific practices and some of the personal and professional issues that researchers encounter in their work. It applies to all forms of research—whether in academic, industrial, or governmental settings-and to all scientific disciplines.
Matt Abrahams – Speaking up without Freaking out
Speaking Up without Freaking Out by Matt Abrahams is an easy-to-read book containing over 50 anxiety management techniques that are based on scientifically supported theory and evidence that will help you become a more confident and compelling communicator regardless of where you present — on stage, in a meeting or virtually.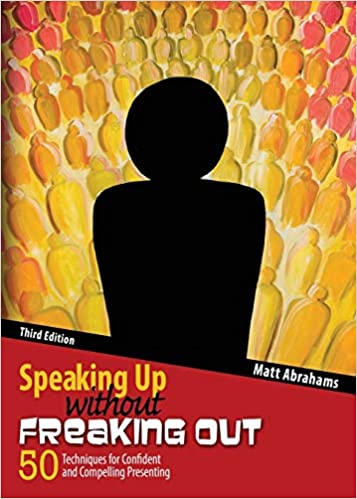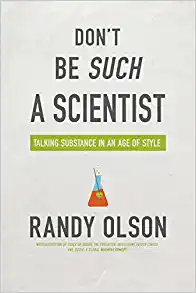 Randy Olson – Don't be such a scientist
In 1997, marine biologist Olson recognized that scientists needed better communications skills to address a growing backlash against "rational data-based science." Inspired by the "power of video," Olson gave up a tenured professorship and went to Hollywood to reach a broader audience through filmmaking. The crucial lesson he learned was how to tell a good story, a largely absent concern for scientists, who focus on accuracy rather than audience engagement. It was a lesson Olson learned the hard way, after his intelligent design documentary, Flock of Dodos, flopped for lack of a lively story line. By "starting with a quirky little tidbit" about his mother and the intelligent design lawyer she lives next to, Olson found the hook he was missing. Olson values motivation over education, looking to Al Gore's An Inconvenient Truth ("the most important and best-made piece of environmental media in history") for a hugely successful example of his principles in action. As if to prove all he's learned, Olson packs this highly entertaining book with more good stories than good advice, spurring readers to rethink their personal communication styles rather than ape Olson's example.
Peter Feibelman – A PhD is not enough
In A Ph.D. Is Not Enough!, physicist Peter J. Feibelman lays out a rational path to a fulfilling long-term research career. He offers sound advice on selecting a thesis or postdoctoral adviser; choosing among research jobs in academia, government laboratories, and industry; preparing for an employment interview; and defining a research program. The guidance offered in A Ph.D. Is Not Enough! will help you make your oral presentations more effective, your journal articles more compelling, and your grant proposals more successful.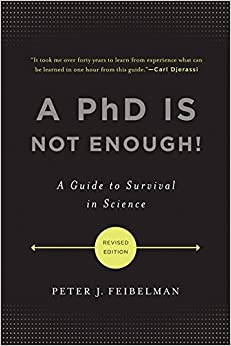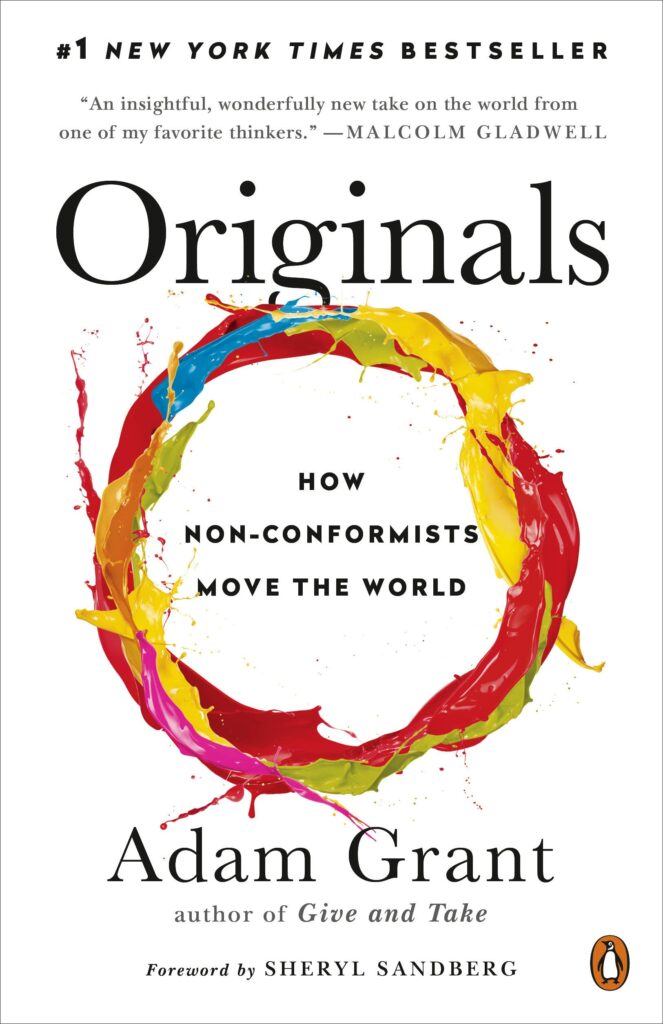 Adam Grant – Originals: how non-conformists move the world
Using surprising studies and stories spanning business, politics, sports, and entertainment, Grant explores how to recognize a good idea, speak up without getting silenced, build a coalition of allies, choose the right time to act, and manage fear and doubt; how parents and teachers can nurture originality in children; and how leaders can build cultures that welcome dissent. Learn from an entrepreneur who pitches his start-ups by highlighting the reasons not to invest, a woman at Apple who challenged Steve Jobs from three levels below, an analyst who overturned the rule of secrecy at the CIA, a billionaire financial wizard who fires employees for failing to criticize him, and a TV executive who didn't even work in comedy but saved Seinfeld from the cutting-room floor. The payoff is a set of groundbreaking insights about rejecting conformity and improving the status quo.
Susan Cain – Quiet: The Power of Introverts in a World That Can't Stop Talking
In Quiet, Susan Cain argues that we dramatically undervalue introverts and shows how much we lose in doing so. She charts the rise of the Extrovert Ideal throughout the twentieth century and explores how deeply it has come to permeate our culture. She also introduces us to successful introverts—from a witty, high-octane public speaker who recharges in solitude after his talks, to a record-breaking salesman who quietly taps into the power of questions. Passionately argued, impeccably researched, and filled with indelible stories of real people, Quiet has the power to permanently change how we see introverts and, equally important, how they see themselves.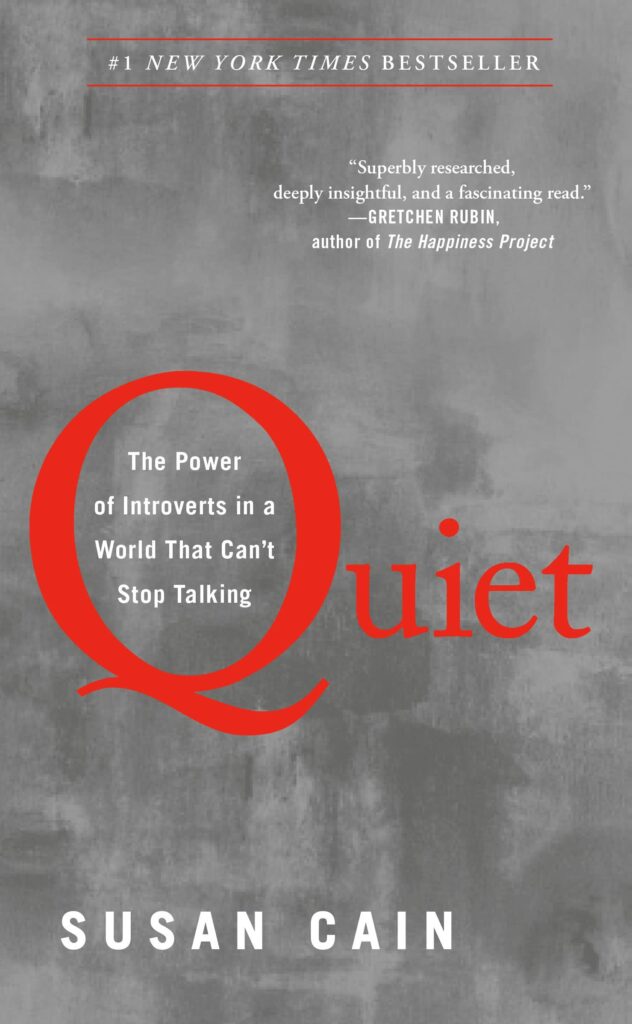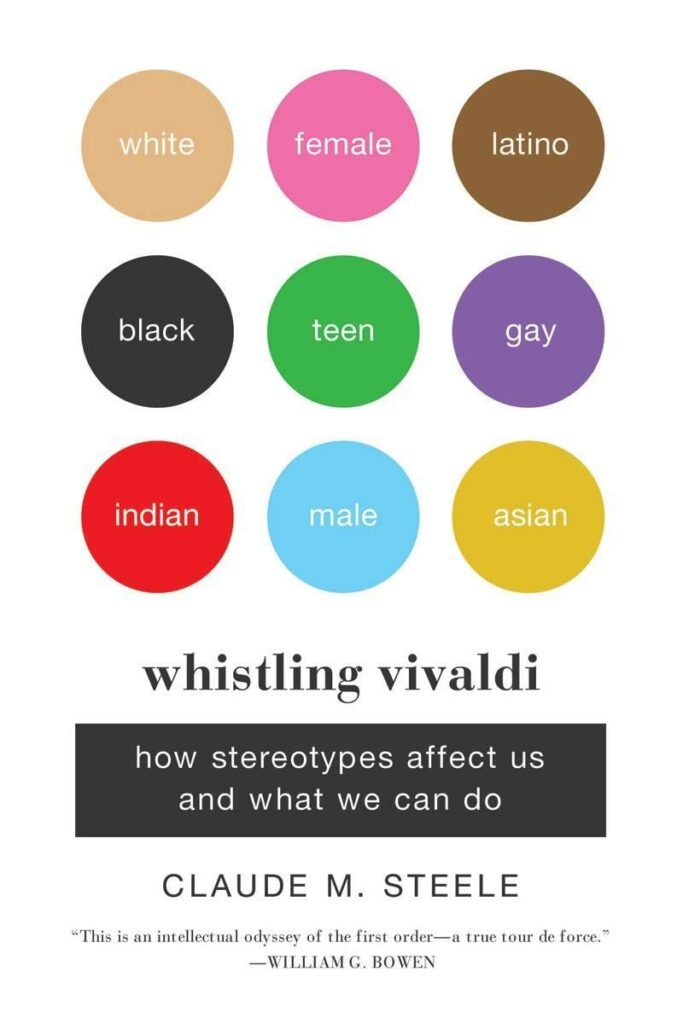 Claude Steele – Whistling Vivaldi: How Stereotypes Affect Us and What We Can Do (Issues of Our Time)
Claude M. Steele, who has been called "one of the few great social psychologists," offers a vivid first-person account of the research that supports his groundbreaking conclusions on stereotypes and identity. He sheds new light on American social phenomena from racial and gender gaps in test scores to the belief in the superior athletic prowess of black men, and lays out a plan for mitigating these "stereotype threats" and reshaping American identities.
Matthew Walker – Why We Sleep: Unlocking the Power of Sleep and Dreams
In this "compelling and utterly convincing" (The Sunday Times) book, preeminent neuroscientist and sleep expert Matthew Walker provides a revolutionary exploration of sleep, examining how it affects every aspect of our physical and mental well-being. Charting the most cutting-edge scientific breakthroughs, and marshalling his decades of research and clinical practice, Walker explains how we can harness sleep to improve learning, mood and energy levels, regulate hormones, prevent cancer, Alzheimer's and diabetes, slow the effects of aging, and increase longevity. He also provides actionable steps towards getting a better night's sleep every night.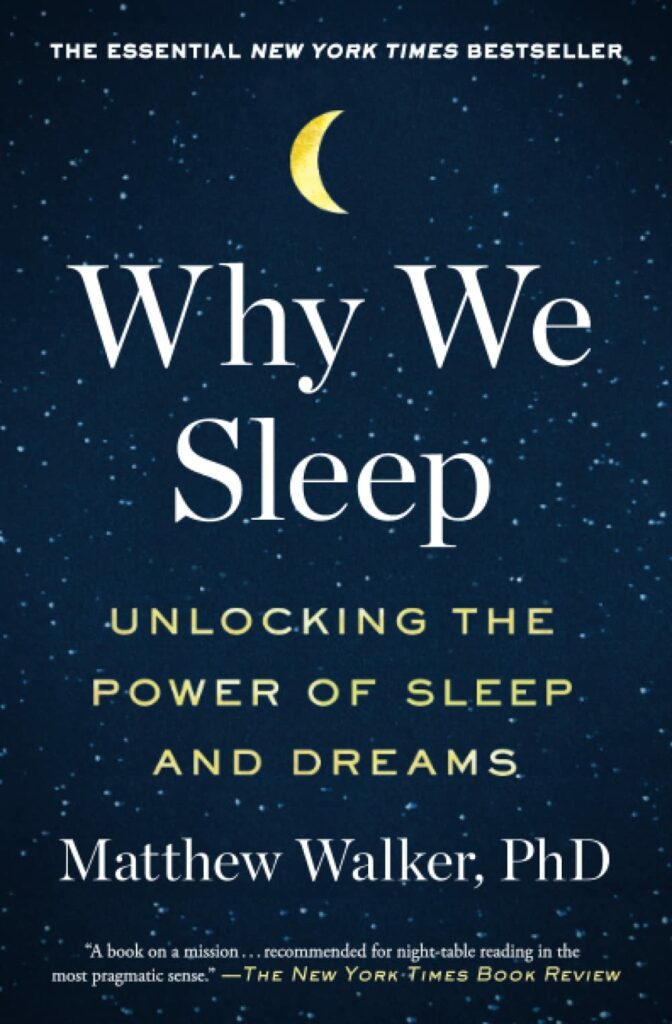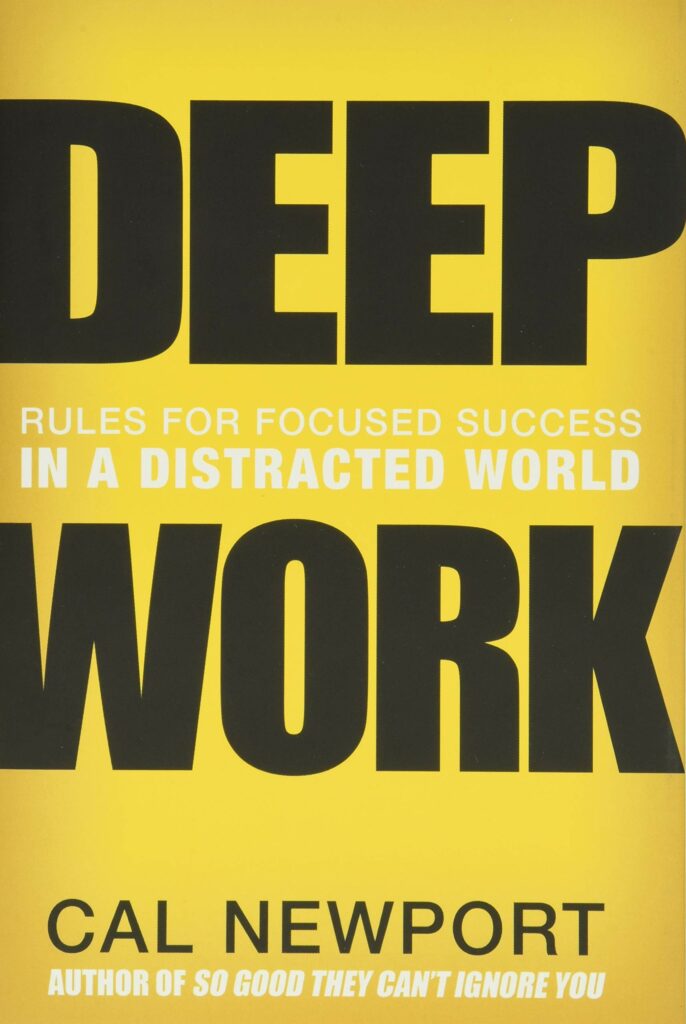 Cal Newport – Deep Work: Rules for Focused Success in a Distracted World
In Deep Work, author and professor Cal Newport flips the narrative on impact in a connected age. Instead of arguing distraction is bad, he instead celebrates the power of its opposite. Dividing this book into two parts, he first makes the case that in almost any profession, cultivating a deep work ethic will produce massive benefits. He then presents a rigorous training regimen, presented as a series of four "rules," for transforming your mind and habits to support this skill.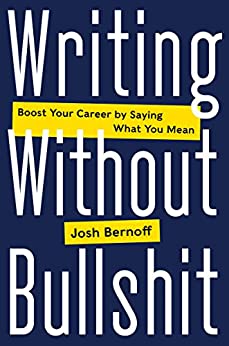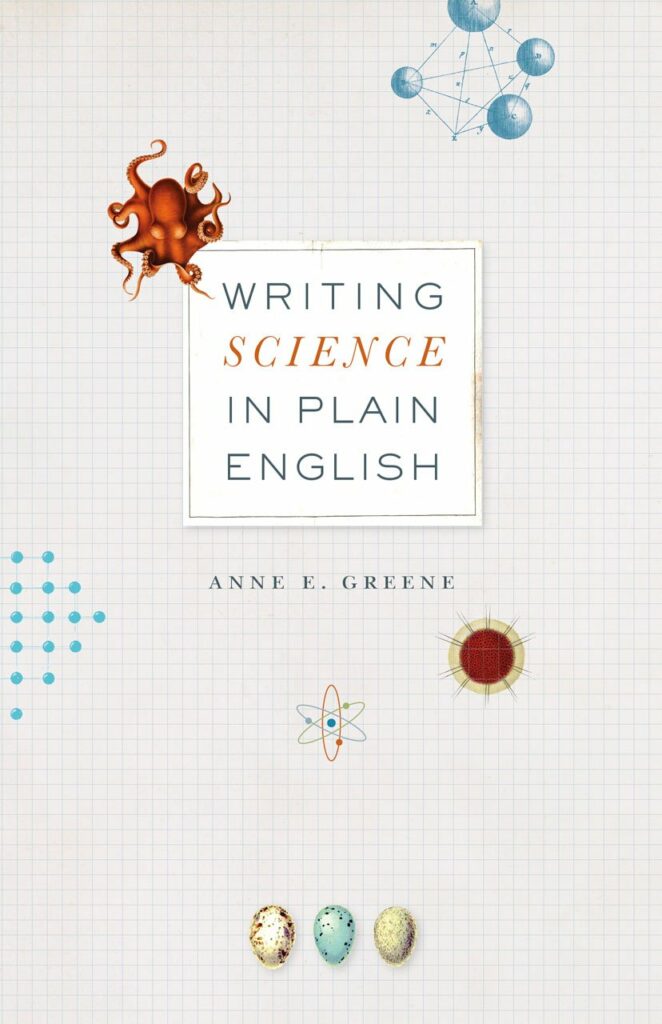 Anee E. Greene – Writing Science in Plain English
This short, focused guide presents a dozen such principles based on what readers need in order to understand complex information, including concrete subjects, strong verbs, consistent terms, and organized paragraphs. The author, a biologist and an experienced teacher of scientific writing, illustrates each principle with real-life examples of both good and bad writing and shows how to revise bad writing to make it clearer and more concise. She ends each chapter with practice exercises so that readers can come away with new writing skills after just one sitting.
JD Schramm – Communicate with Mastery
Communicating with Mastery provides readers with a rich treasure trove of frameworks and tools for leadership communication as developed and taught over the past decade at Stanford's Graduate School of Business. Designed for the business leader on the go, it provides you quick access to helpful approaches to vexing communication problems leaders face today in speaking and writing to various audiences.