Dr. Mrina Nikrad's Unconventional, yet, Perfect Journey to Curing Diseases
By Elisabeth Lee
---
One of the biggest worries an undergraduate student may have is whether or not they are pursuing the proper degree or chasing the perfect career. But as senior scientists and researchers shower their wisdom upon younger students, there is a common theme of uncertainty and an overall normalization to adjust what you pursue as you gain more experiences. Dr. Mrina Nikrad is a senior scientist at the pharmaceutical company Editas Medicine, and she takes part in developing and optimizing the cell analytical assays needed in quality control of drug products. This profession wasn't her original aspiration, however. Her journey allowed her to refine and combine her interests from ecology to molecular biology to microbial ecology. Nikrad, reflecting on her diverse background, says, "I thus have a very broad range of experiences that makes me well suited for many exciting opportunities."
In high school, Nikrad read the book titled Red Mars by Kim Stanley Robinson, which piqued a strong interest in microbes and their influence on planetary atmospheres. She asked the question: "[Microbes] have already engineered the Earth on a global scale so why could they not do so on other planets?" The questions that emerged were what first encouraged her passion for astrobiology and are the same questions that continue to motivate Nikrad to this day. Her goals are to add knowledge about the biological world and to continue to demystify the complexity of all cells.
Nikrad began her studies with a passion for the environment and completed her bachelor's degree in Ecology and Evolutionary Biology at the University of Colorado. After, she felt the desire to study the biological world at a molecular level and went on to complete her masters in Biomedical Sciences/Molecular Biology at the University of Colorado Anschutz Medical Campus. Then, at the University of Delaware, Nikrad went on to study ecology again, completing her PhD in Microbial Ecology. Her passion for astrobiology encouraged her to pursue her PhD in researching extremophiles in Antarctica. Now at Editas, Nikrad focuses primarily on patients with sickle cell disease. She and her team use patient stem cells that have been extracted and modified through CRISPR to cure the disease.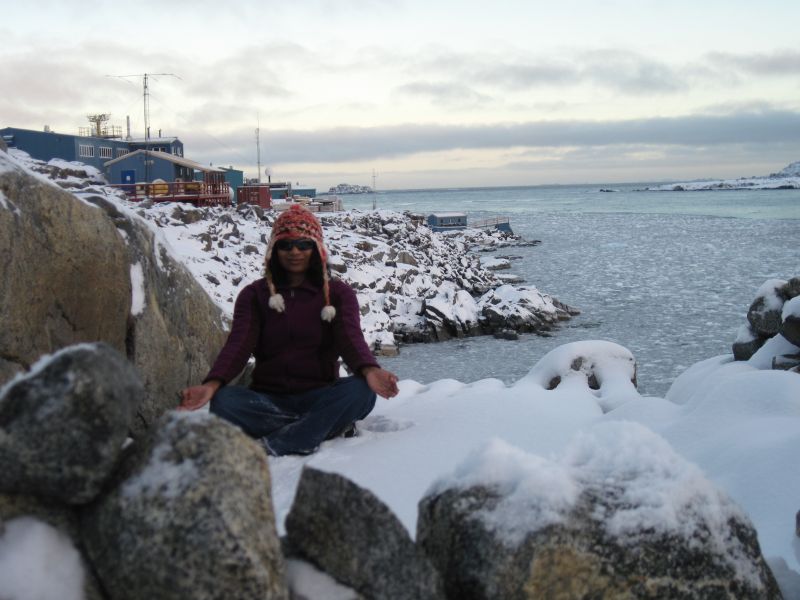 Nikrad shares the generic drug development process but only briefly discusses the drug development process because "…it takes about 10 years and 2 billion dollars to now develop one drug, whether it's a vaccine, a treatment, a cure, a live product, a small molecular product, etc. It's a very long and expensive process with clinical trials being the most expensive aspect!" she states. Nikrad explains that the process begins with a new technological idea at a startup company. They will lay the foundation with the target disease and provide "preliminary proof of concept work to show this is possible," according to Nikrad. If positive results are produced, they will advance the project with more funding and expand the team. She continues by stating, "If their work seems promising, they can expand their team and do pre-clinical work either in vitro or in animal models to file an IND (Investigational New Drug Application) with the FDA to begin clinical trials." IND approval allows for human clinical trials, and, if successful, the drug can be commercialized!
Nikrad's diverse background allows for a lot of variability and every day produces a new challenge. When she reflects on her favorite aspect about her work, she says, "I love discovering and unlocking new secrets about biological systems using all the knowledge and tools I have, and often learning new tools to answer the questions we need to answer… Being able to study these systems and satiate my curiosity is something that brings me great joy every day." Where Nikrad had begun her undergraduate studies in a different field of study than she completed her PhD in, it has proven to only enhance her experiences and refine the various interests she had. She advises young scientists to follow their active interests through experiences beyond the classroom. And if her educational background can quell young students' fears and uncertainties, then Nikrad believes she has done her job.
---
Elisabeth Lee is an undergraduate student studying human biology at Cornell University. On campus, she works on the E-board of Cornell Undergraduate Research Board and is a dancer in the Impact Dance Troupe. Fueled by hands-on experiences, she aspires to work in the healthcare field and serve those in her community, while maintaining her life-long passion for ballet.