Astronomy and Space School in Mardin
---
Guest post by Berfin Dağ, one of our current Young Scientist Program (YSP) participants. This summer, Berfin put together and ran a workshop to teach astronomy in her hometown of Mardin, Turkey. Among their activities were lectures on astronomical topics, a hands-on activity to create a star atlas, and public observing nights.
---
I was very excited to teach astronomy this summer in Mardin, the city where I was born and raised, in the heart of Mesopotamia. This idea has been on my mind since high school. In high school, I visited many villages and gave astronomy seminars. My biggest dream was to realize the astronomy activities that will be repeated every year in Mardin. I took the science communication responsibility of the BMSIS Young Scientist Program and met with the Mardin Youth and Culture House for the program that I dreamed. The team was very warm and motivated, and shared their opportunities.
The first thing I did was to prepare a curriculum and workshop content, and consult with astronomers I knew from Turkey. The scientists I talked to were very supportive of this work and said that they could even come to Mardin and give a conference. Great news!
After finalizing the curriculum, I started designing an eye-catching poster. When I was preparing a poster, I thought of the details that pushed me to astronomy as a child. In Mardin and the surrounding provinces, people sleep in the summer by laying beds on the roofs of houses. There are even wooden structures placed on the roofs to sleep on the roof. I, like every child, slept in these wooden structures in summer, counting stars under a glorious sky. My curiosity with regard to space was fueled by questions that the stars had brought to my mind those nights. Therefore, after adding the Milky Way and the Mardin skyline to the poster, I added the silhouette of the wooden bed on which we slept. Ta-da! A poster that spreads the excitement of Mardin and Astronomy!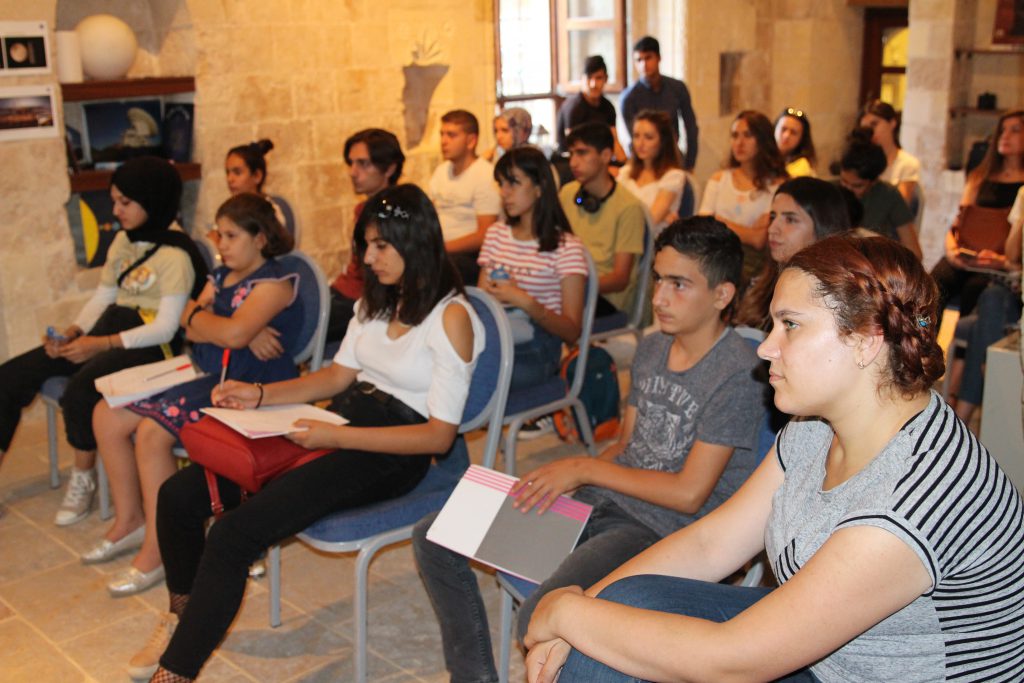 After the applications were opened, we searched for a telescope that we could use. I was almost certain that most of the young people who will attend had never seen a telescope in their lives, so we needed a telescope that would allow us to do a few observation activities, maybe even on loan. Meanwhile, I started to prepare the content of the theoretical courses and the materials of the workshop. We started our first class on August 5, 2019 with 40 registered participants. Participant age ranges were very wide, there were participants between the ages of 15 to 30. Some of the participants came dressed in space-themed outfits, so there was a beautiful space atmosphere in our class which we decorated with the posters I had before.
Our program lasted 5 weeks, and I taught 2 days of theoretical lessons each week. Our program started with an introductory course; the first week was to learn about the sky and included an introduction to basic astronomical concepts, the celestial bodies, and the properties of the solar system and planets. They were very knowledgeable about the topic, and this led to many discussions. A deep conversation began on Pluto being a dwarf planet.
Luckily, my earlier search for a telescope came to a conclusion, The Mesopotamian Astronomical Society came to Mardin in our second week with their telescopes! We made the first conference announcement and organized our first public event on August 18th. Before the event, we set up a solar telescope to observe the sun. It was a day when sunspots were almost absent, but we saved our excitement for full moon observation. The chairman of the Mesopotamian Astronomical Society, Mahmut Tekeş, gave a seminar on the History of Astronomy, then we observed Saturn, Jupiter, and the full moon through the telescopes. As the participation was very high, the feedback was also great! Parents were as interested as children and our observations continued until late at night. Everyone wanted it to be repeated, so we started looking for a telescope again because the telescopes could not stay with us.

In the third week, we discussed the evolution of stars and planets and about types of stars and nucleosynthesis in stellar evolution. On the day we studied planetary evolution, we talked about how planetary systems take shape and about the Earth's own evolution.
As we started to go deeper, the curious gaze in the eyes increased and the questions began to multiply. After each lesson, we had one-hour Q&A sessions.

After our third week, astrophysicist Dr. Tuğça Şener, who helped me to prepare this program, came to Mardin! She was prepared to give us a very nice seminar. We also prepared for the second public event by making another announcement for Dr. Şener's seminar.
Abdullah Elçiçek, who is living in a nearby district and quite interested in amateur astronomy, said that he would come to our event with his telescopes! This was great news because again, in our second event, we would be able to observe the sky. Our second event took place with greater participation on August 26, 2019. The topic of the seminar was ground-based observations, telescopes, and the working life of an observational astronomer. The participants, especially the young girls, were very excited to meet an astrophysicist and showered Dr. Şener with questions.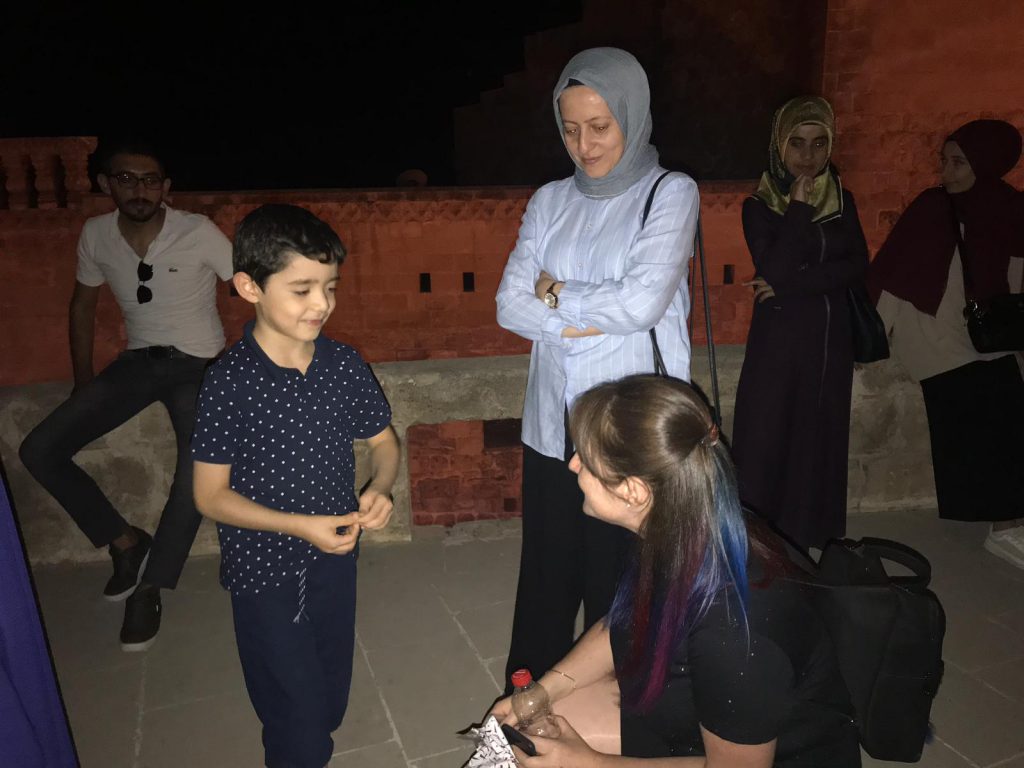 In our fourth week, we discussed astrobiology and the search for extraterrestrial life. Here's the best part!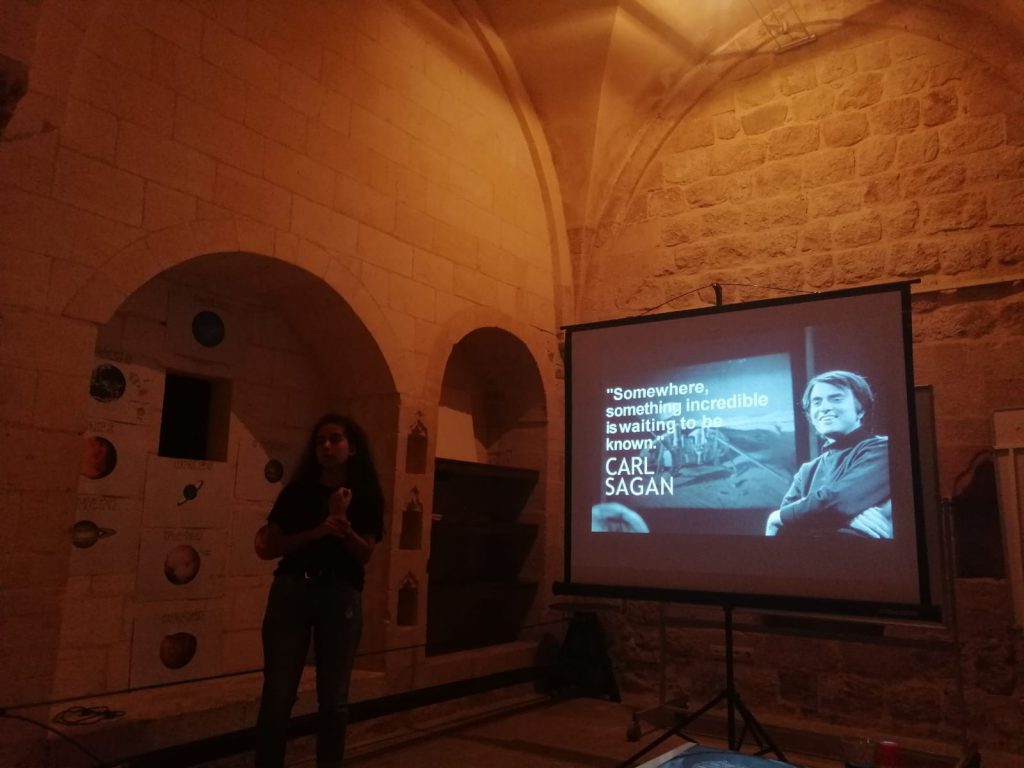 I was very excited, even as I was preparing the content, and even moreso during the lectures! Participants looked very excited as they listened to ideas about ocean worlds, Mars, Titan, and more. After this lesson, we did our first hand-on activity: we made our own Star Atlas! This way, everyone could carry their atlas with them and use their own atlas to find out what they were looking at on a starry night.
In our fifth and last week, on September 5, I talked about the milestone missions and stories of space research in general; the history of space exploration missions, important research missions that will take place in next years, and we also talked about why they are important. After this last lesson, we completed our program.
For me, besides my scientific research project in YSP, I continued with great pleasure even though the tasks such as preparation for lectures and coordination for this program were very intensive. The Mardin Youth and Culture House team really helped in this process, It was a fantastic experience. We have kept in touch with the participants and are preparing to share our interest in space, to spread it, and to do bigger works in future.
Even one child who raises her/his head to the sky gives me the motivation to continue this voluntary work for years.