AstroBioCon – Pune, India, 15-16 December!
BMSIS is proud to be a co-sponsor of the upcoming International Conference on Astrobiology (AstroBioCon) in Pune, India, December 15th through 16th, 2018.
This two day conference will be a platform for interaction between international speakers, researchers, and academics working in astrobiology. Conference sessions and themes will include general astrobiology, astrochemistry, astrobiology education and outreach, extreme environments, and astrophysical research. The final session of the conference will focus on the development of an Astrobiology India Road Map.
Interested individuals can find more information about the conference and registration at the conference website or by sending an email to: InternationalConf@moderncollegepune.edu.in
A conference brochure can also be found HERE.
AstroBioCon 2018 is funded under the Quality Improvement Programme of Savitribai Phule Pune University, Pune 7, is organized by the Post Graduate Research Center in Botany, Progressive Education Society's Modern College of Arts, Science, & Commerce, Shivaji Nagar, Pune 411005, and is supported by the Blue Marble Space Institute of Science.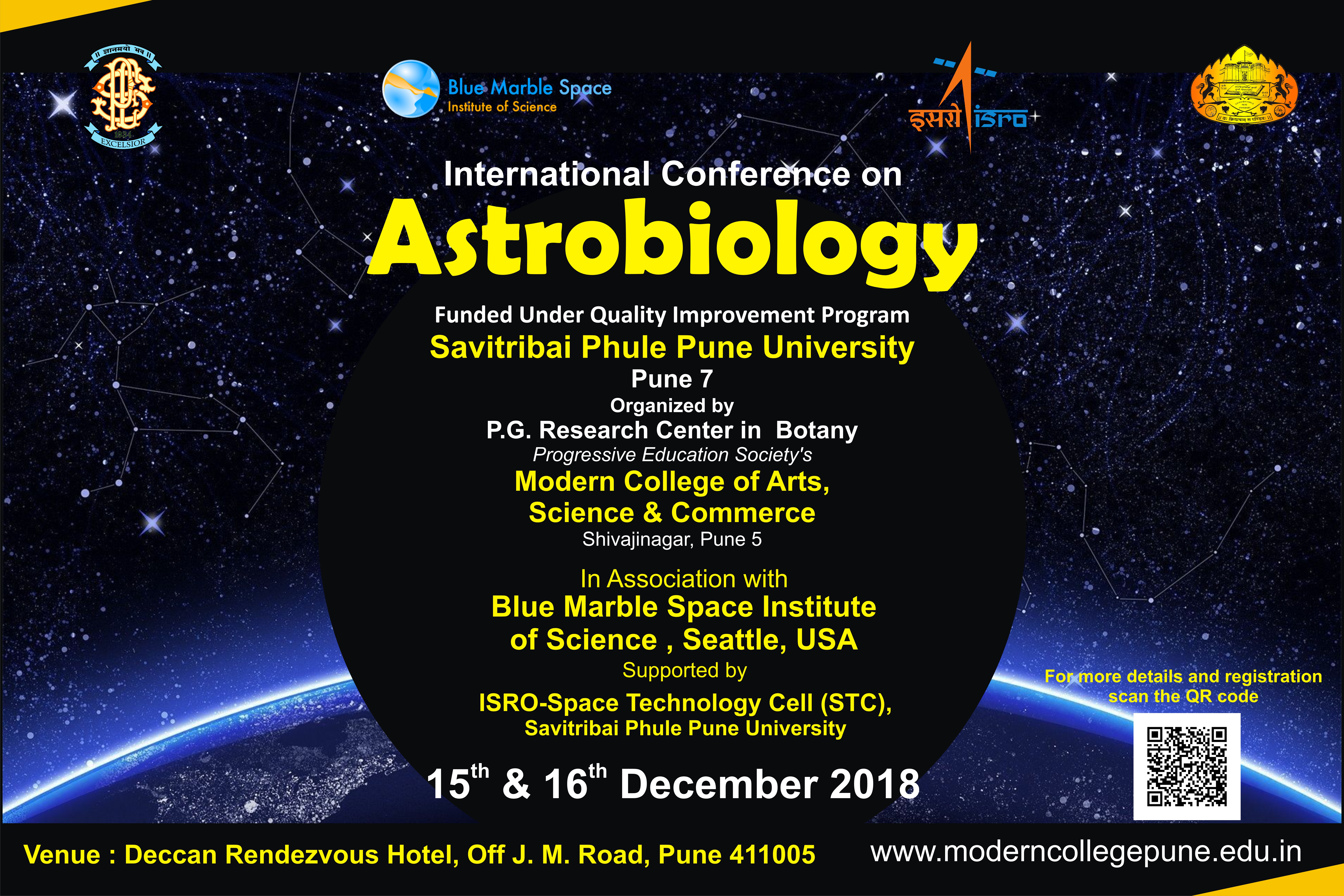 Following are the individuals involved in organizing the conference:
International Scientific Advisory Committee:
Dr. Parag Vaishampayan, NASA-Jet Propulsion laboratory, California Institute of Technology, USA. (Chairman, International Scientific Advisory Committee)
Dr. Nigel Mason, Coordinator Europlanet, UK.
Dr. Sanjoy Som, NASA-Ames, Director, Blue Marble Space Institute of Science, USA.
Daniella Scalice, Education and Communications Lead, NASA Astrobiology Program
Dr. Felipe Gomez, Centre for Astrobiologia, INTA-CAB, Madrid, Spain.
Dr. Rakesh Mogul, Director; NASA/CSU Spaceward Bound, California State University System.
Ms. Haritina Mogoșanu, Director, New Zealand Astrobiology Network, New Zealand.
Dr. Cheng Bing-Ming, Scientist, National Synchrotron Radiation Research Centre, Taiwan.
Dr. Siddharth Pandey, President, Mars Society, Australia.
National Scientific Advisory Committee:
Dr. Yogesh Shouche (Chairman, National Scientific Advisory Committee)
Dr. Nitin Karmalkar, Vice Chancellor, University of Pune, India
Dr. Deepti Deobagkar, ISRO-Chair, S.P.Pune University, India.
Dr. Pandit Vidyasagar, Emeritus Professor, S.P. Pune University, India.
Dr. V. Jayaram, Indian Institute of Science (IISC), Bangalore, India.
Dr. Shyama Narendranath,Scientist, ISRO-HQ, Bangalore,India
Dr. Bhalamurugan Sivaraman, Physical research Laboratory, Ahmedabad, India
Dr. Rakesh Rao, Astro Project, Goa, India